The last trip of Rozinante
This is a movie from one of the streches Staale has sailed with Rozinante.
This is a small update for our english speaking readers (who hasn't been payed much attention to by this norwegian site). Staale has been sailing a long time alone with Rozinante: South-America to Cape Town, Africa to Hobart in Tasmania and was suppose to arrive South-America the 14. feb '06. But the following happened...
After heavy seas 60 nautical miles outside Cape Horn, Rozinante lost her rudder 14. feb '06 because of a big wave hitting it. After reviewing his options, Staale had no other choice than to abandon Rozinante. Not beeing able to steer and drift east into the South Atlantic Ocean was not a pleasant thought. Staale had no solution to the steering problem and now could be the only chance to be rescued. Staale was transferred in storm and 10-15 meters waves by a rope from Rozinante to "M/S Mazury", a Polish 170 meters long cargo wessel which by coincidence was in the same area as Rozinante.
Staale was pulled up alongside the cargoship by the cargoships crew. Rozinante smashed into the cargoships hull several time. The mesan-mast broke and Rozinante sustained serious damage. Rozinante disappeared in the dark and is now considered lost either she sank or is drifting somewhere in the south atlantic ocean. When Rozinante smashed into the cargoship the top of the wind-sensor which was situated on top of the mesan-mast acutally landed on the cargoship's deck. This piece is the only physcial thing that Staale has left from Rozinante, which was the most precious thing that Staale ever had.
The crew onboad "M/S Mazury" completed an almost impossible task. First of all the sea and wind was so heavy that the cargoship was only making 5 knots ahead westward. I normal weather it would speed at 15 knots. Rozinante did not appear on the cargo wessels radar screen until just a few nautical miles even though Rozinante had a radar reflector mounted high up in the mast. It was a very difficult task to manoeuvre the 170 meters long ship close enought to Rozinante without crashing before transferring Staale. The cargo ship had no bow or stern thrusters. Staale is very thankful to the great skilled crew onboard the M/S Mazury.
The last position ever received from Rozinante can be viewed on this page.
If you have any questions, please don't hesitate to mail webmaster at: [email protected]
Old page:
One Year Sailing Around
The North Atlantic Ocean
Information found in this document is no longer correct. Updated information for our foreign readers will hopefully be published soon.
Rozinante is now on it's way from Cape Town to Australia/New Zeland. For the latest position report, click this link at shiptrack or this link at yotreps. Some of the reports sent from Rozinante underway is available in English they are marked with english on the folowing page.
Who we are
Three guys in the early twenties soon leaving a small town in southern Norway called Kristiansand, to as the headline already has told you; spend a year sailing around The Northern Atlantic Ocean The Great Plan is to leave our hometown the 6th of July 2003, and be back in the beginning of August 2004. We have spent hundreds of hours this last year fixing, improving and preparing our glorious ship, S/Y Rozinante, for the turbulent life she`s gonna have to deal with, and to read more about her, check under her name.
To find out where we are at the moment, enter Lyst til å være med?, the dates might repudiate as a natural consequence the fact that it`s impossible to control the weather, so therefore it is hard to set accurate dates for when we will be where… But we will try to update the page as we go along. If you wanna know more about the three of us, just keep reading!
The Crew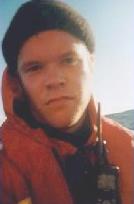 CAPTAIN STAALE JORDAN; born 23rd of Jan 1980, in the middle of Norway. Ended up in Kristiansand after a couple of years, at a place called Sodefjed. It`s a small, small place by the sea where people don`t grow on trees, so to speak. To compensate for contact with people at his own age, Staale had many hobbies, and some of them have turned out to be very useful today. The summers he spent diving and sailing, and in the winters he built huts and computers.
His childhood summers were often spent with the family aboard their sailboat, Rozinante. At the age of thirteen, tied up to the main mast, he took his first turn as the commander of the ship. The location has the middle of the North Sea, and he was told to scream if something went wrong, the rest of the crew was sleeping. Today Staale claims that it is an experience he is appreciating a lot, because this trip was the foundation of his interest for sailing.
Five years later he went to Barbados with his mother and brother to see his father; the plan was to spend the next six months sailing with the Old man. But his girlfriend came to see him before the journey began, and when she was about to leave he changed his mind and went home with her, young and in love.
After this Staale and more and more of his friends have been sailing several times, with different routes, between Norway, Denmark and Sweden. Sometimes in between Staale had some neck-breaking trips on his own in small boats. In June 2002 he almost lost one of his nine lives, but was eventually picked up of the cold water by the coast guard. Ten days later during the Quart Festival Staale sow a tree with asphalt beneath, and had the great idea to do a little climbing. He didn`t plan to fall down again, but that`s what happened, and with a broken back he should be very, very happy to still be alive!! A few months later he got his parents permission to borrow Rozinante for a year, and that`s it; The Story of Staale`s life goes on, and the next chapter starts at Sunday 6th of July 2003.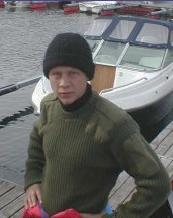 CREW RAGNAR TORKILDSEN; entered this world 15th of Aug 1980. When he started school seven years later he was the strongest boy in his class! And it wasn`t really a very great accomplishment cause he only had one classmate, his good friend Thor Magnus. After two years in the little school with seven pupils and one teacher, he had to spend the rest 7 at Samfundets Skole in Kristiansand. He didn`t worked very hard in school, so his grades were really lousy. But he did get in to mechanics. Second year he improved and spent a lot more time in school. This obviously impressed someone, cause next year he got a contract of apprenticeship. He stayed there till March 2000, when he served his duty in the air defence. He really liked it, but missed his life at home too much. Too little summer in the North!
February 2001 he came home again. He got a new job pretty quickly and took his Skilled Worker Diploma with best possible grade. He still works at Jens Knudsen Mek.Verksted, and now he shares a flat with Staale.
When Ragnar was seven he moved from Tømmerstø to Søm (one housing field to another). Since than he has spent a lot of time travelling between the two places, because Ragnar really do Love Tømmerstø, especially in the summer when there`s plenty of girls in bikini. He owns a boat with his brother Edvard (-Who`s gonna join the crew for a while on this trip). But his first time at sea with nothing but water in all directions was the summer of 2000. Then he went sailing with some mates to the Skaw and with sunshine all the way he discovered the pleasure of sailing. Later he has also tried sailing in disgrace with the Clerk of the Weather. He has been sea-sick and learned a few sailing terms.
When Staale started talking about a great journey Ragnar was very interested, and when it turned out to be possible he volunteered very quickly; YESS…. I wanna go!! And after a hard year with lots of work and savings –and very little sleep- he`s now ready to leave his loved ones and start the adventure of his life!!!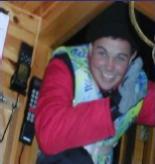 CREW PAUL-ANDRÈ KNUDSEN; first sow this world a warm Sunday in August 1982. He was born in Kristiansand, but after a few childhood years in the town Staale was born in, also he developed a strange non-excisting dialect. When he came back to Tømmerstø he was seven years old and the big brother of two. At the age of twenty he still lives home with Mammy (who keeps talking of her 25-year-old experience at the Atlantic scaring her son with the possibility of non-separation as he enters the Golden Ship). But living at home gives a great opportunity to save some money, and in these times they are very needed.
Two years ago Paul-Andrè finished school, and set of to Lillehammer to serve the nation for a year. He served as a computer expert and had a great time. The year went by rather fast and when he came back he had been thinking about travelling by sailboat. He started working and saved some money for education, when suddenly the possibility to go sailing came along.
By now either Ragnar or Paul-Andrè have seen much of this world. But 3 years ago Paul-Andrès father moved to Shanghai (China), and Paul Andrè has been there to visit him. Both Paul-Andrès parents and grandparents are fond of life at sea, so most of his childhood summers were spent on or nearby a boat. After several summers in grandparents boat, the family finally sold the caravan and the motorboat and bought a wreck of a sailboat. But after intensive work she was ready to hit the water, and for each year she got closer and closer to be done. A clear tendency was that things were done over night before a new trip, temporary things, but they often stayed and lots of them are still there!
Before his father left Paul-Andrè got permission to borrow the sailboat while he was gone. In the beginning he prioritised short trips with beer and loud music, but the next summer he discovered the pleasure of long distance sailing. And now he sure gets a long distance!! Just such a shame he found the Woman of his dreams just a few months before departure, cause now the poor woman (Christina, check her own page) has to wait for a year to get him home again. Luckily she`s planning to visit him several times, and hopefully prevent the possibility that he will abandon the rest of the crew… At first the other guys seemed rather worried, but by now it looks good. Girlfriend or not, Paul-Andrè seems to think like the other guys; Impossible to go sailing for a year when we are married with children and are stucked with debts. We have to do this now while we still have the chance!!!
S/Y Rozinante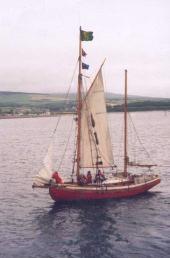 S/Y Rozinante is a 34 feet sailing ship built at Randesund Båtbyggeri by Agnar Joakim Bang. She was launched in 1984 and sold to the Hornang/Jordan family in 1992. The boat has two masts and is "fork" rigged. Some of the sails are worn-out and will be changed before departure. The rig will also be closely overhauled before the trip. The main mast was changed in the middle of the nineties.
The hull of the ship is made of plastic, but because of the special form it wasn`t made the ordinary way (in a mould). Therefore the ship was first built in pinewood, then covered with plastic, got a coat of isolating material, and was covered with plastic again. Rozinante is a craft built for sailing at sea, she is not a fast sailor but can deal with lots of beating.
Rozinante is in very good technical condition. The special relationship between the boat and the owners has ensured Rozinante excellent care through the years.
---
Thanks to Christina(Ragnar`s sister) for translating for us!
©2003 www.rozinante.net